Tweedmouth & The Community
We are currently looking for local businesses to sponsor our newsletter which is being sent out to over 300 homes each half-term. If you would like your business to appear in the next issue of our next newsletter, please contact Miss H Garland at Admin@tweedmouth.northumberland.sch.uk
Sky Sports Living for Sport 2017
Katy Storie and Samantha Kinghorn have recently visited Tweedmouth Community Middle school as part of the Sky sports living for sport, Samantha Kinghorn first began wheelchair athletics when she was 16-years-old, following an accident on a farm which left her paralysed from the waist down.
Her greatest achievement so far is a bronze medal in the 2015 World Championships in Doha, but she hopes to achieve further success and medals in the coming years. Her hard work - which includes training two times a day, six days a week - was rewarded in 2016 when she qualified for the Paralympics in Rio. Samantha reached the final in three separate races and narrowly missed out on a podium finish at the Games.
During the morning of the visit pupils learned the following in the afternoon pupils were in the gym taking part in sporting games for example seated volleyball and blindfolded obstacle course
Pupils learned all about Samantha's childhood her accident and the 6 keys to success – these were designed by athletes on the 6 areas you need to help you succeed in sport.
Mental Toughness
Hunger to Achieve
People Skills
Sport & Life Knowledge
Breaking Barriers
Planning for Success
Sporting Achievements: Samantha Kinghorn
World Championships Bronze Medalist
European Championships Triple Gold Medalist
Paralympian
Sporting Achievements: Katy Storie
Six Nations Winner
World Cup Silver Medalist
England A Captain
Animation Workshops
Year 8 pupils took part in animation workshops, 6th, 7th, 8th December… They learnt about the history of animation from cavemen, the Victorians to present day! Robin Webb (North East animator) worked with the students, showing them how to create figures from plasticine, backdrops and the process involved in animation. The pupils totally got to grips with the technology, modelling and moving their characters and produced some very creative and unusual storylines for their animations…Hard to imagine 1 second of animation took 12 frames…Students then recorded their sound effects and their scripts…It was great to see the students so engaged and enthusiastic, and we are looking forward to seeing the edited versions in the New Year, once Robin has merged the animation and sound together. In the meantime, check out the photos on the school website.
Big thanks to Berwick Visual Arts and Northumberland Arts Development, NAD, for granting funding for this project, as part of our Arts Award Explore…and Robin Webb for his energy and expertise…and managing to avoid the BUG!
https://robinwebbanimation.wordpress.com/
http://www.berwickvisualarts.co.uk/
https://www.facebook.com/BerwickVA/
http://www.berwickvisualarts.co.uk/about/development
Macmillan 2016
Macmillan Coffee Morning and Afternoon Tea
A massive thank you to all those who attended the coffee morning and afternoon tea on Thursday 13th October, making it a fantastic event once again. All together over £1000 was raised for a very worthwhile cause. Thank you to all the staff and children who worked so hard baking and icing cakes, serving teas and coffee, dish washing etc.
University Safari
On Thursday 20th October, 29 children went down to visit Newcastle University. They got a chance to chat with current students there and found out more about what life is like as a student. They had a chance to work together to create a story and look at the different courses that are available. Finally they went on a tour of the campus and had their very own graduation…and they were even joined by Newcastle Uni's very own mascot-Percy the Lion!! All children behaved impeccably and were all a credit to the school. We hope to see some of their real graduation photos in a few years time!
Canine Club
TCMS has begun a new, pioneering after-school club this term. Some of our year 6 pupils have had the opportunity to work as dog care assistants with a group of four bulldogs, with the aim to train these furry friends to be therapy dogs in school.
Week one was a write-off as both pupils and dogs were all far too excited to even contemplate listening to instructions. However, as the dogs have settled, the pupils have been able to walk, brush and play hide and seek with them. The children also built dens in the classroom and played bulldog bingo to see how many of the dogs they could get into their den.
Over the next few weeks we plan to teach the dogs to sit and listen while being read to, teach agility exercises and get the boys to give a paw. This will hopefully prepare the dogs to work with some pupils in the future to build confidence, reduce stress, experience the love and loyalty these bulldogs have to give and to improve reading skills.
Dog therapy in school has been around for a while in the USA however it is still a pretty new concept in Britain. Dogs in the classroom can be used as a therapeutic aid for teaching children about kindness and empathy, but also for building confidence – especially in reading. With figures suggesting that one in six pupils in Britain struggle to read fluently by the age of 11, we would like to encourage pupils to read aloud to a friend who will be comforting and non-judgmental.
There is evidence to suggest that a child's blood pressure and stress levels are considerably lower when they are asked to read aloud to a dog rather than in front of their peers and teachers. We hope that our dogs will teach children about responsibility and respect, while motivating those who struggle to concentrate in lessons.
Gardening Galore
Our veranda area has undergone some amazing changes recently to provide our pupils with a safe, quiet area in which to spend their break times. Our community gardening group have been busy enhancing this area by planting some beautiful flowers, with the help of local gardening expert Neil Skelly. Most of the community group are currently in year 8 and will therefore be moving on to a new school in September. Thankfully we have recruited two new members (pictured below) who are going to continue this great work and keep our Spittal flowerbed and the school grounds looking FAB-U-LOUS!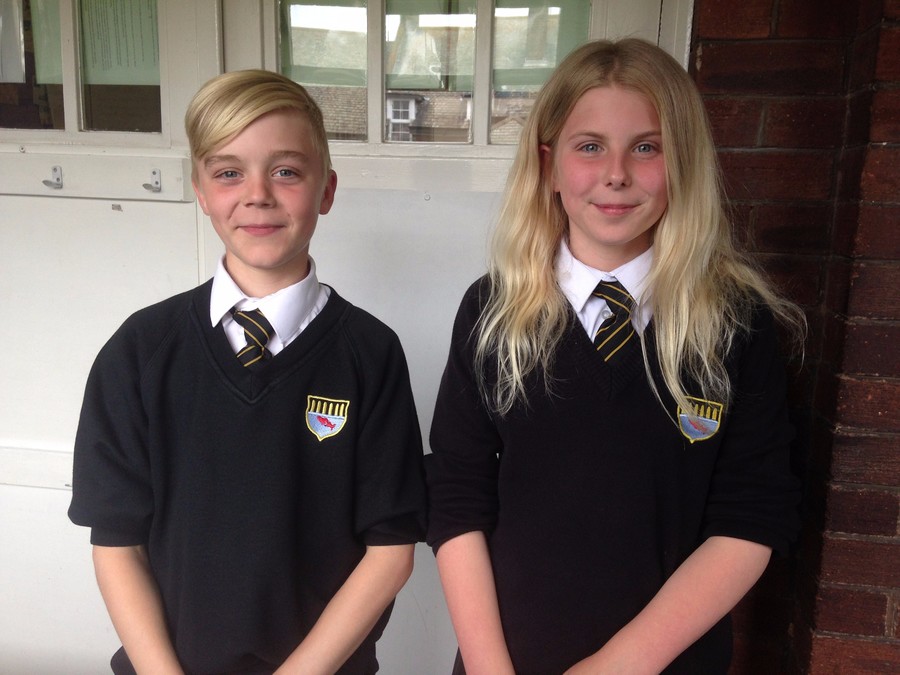 Juneau Art
Art Workshops by Juneau Projects
'Animal Spirits' is a book and exhibition by Juneau Projects, commissioned by Berwick Visual Arts.
To bring the story to life, Juneau Projects, Phil Duckworth and Ben Sadler held illustration workshops, in which Year 8 pupils produced hand-painted images of scenes from the narrative. A selection of these images were chosen to be featured in the printed book, and a copy of the book was presented to those whose work was lucky enough to be published (pictured below). A wider selection of these images are also on show in the exhibition, presented at the Gymnasium Gallery. The exhibition is on in the Gymnasiam Gallery, 19th March – 8th March
Sport Relief
Thank-you to everyone who donated to sports relief last Friday. We raised a total of £299 for the charity and had a fun, but tiring, day doing it. The staff vs pupils cycle-off was very exciting and Celik got the pupils off to a flying start against Mr Hulbert but over the course of the day, the staff managed to close the gap and eventually take the lead winning by 16 miles. The results ended:
Pupils: 111.2 miles
Staff: 127.2 miles
Well done to all who were involved.
Sky Sports Mentor – Katy Storie
Ex-England rugby star, Katy Storie led an inspirational whole-school assembly a few weeks ago. She encouraged pupils to think about their hopes and dreams for the future and sparked some genuine desire within our pupils.
School Sport 2016
In January we entered the North Northumberland KS3 Badminton Competition. This competition is always difficult as we have to play against High School pupils however there were some excellent results. Our boys team beat Berwick Academy 5-0, and our girls team beat the Duchess High School 5-0 and finished 3rd overall. Well done to all who competed, the sportsmanship and effort was exemplary!
Lady Taveners Cricket
We were delighted to enter two good teams into this competition and everyone had a fantastic day. The skill level was very high and very few wide balls were bowled. There were some excellent catches and numerous sixes. The teams played very well and improved significantly as the competition progressed. After a great final we finished in 2nd place. Next year we aim to go one better!
Zumba
The girls have been sweating to the music this term and dancing along with Zumba instructor Julie Kay, as part of their games lessons. As well as strutting their stuff to some latin salsa and reggaeton tunes, the girls have enjoyed performing routines to some well-known pop songs.
Julie teaches adult Zumba classes at the Swan Centre for Leisure on Wednesday 10am, Thursday 6pm and Sunday 10am.
Travelling by Tuba 2016
Arts Award
Arts Award
A group of year 8 students are taking part in 'ARTS AWARD – EXPLORE' this year…as part of this they attended the Berwick Film and Media Festival, where they watched a French animation film and took part in a film making workshop…They also had a guided tour of three of the art installations that were on show as part of the event…a very new experience for some!
Citizenship day
This term's citizenship day was all about British Values. Year 7 pupils spent the morning making origami poppies which they plan to sell to raise money for the British Legion Poppy Appeal in November.
Girl Guides
The local Girl Guiding group ran an after school taster session for our pupils on Wednesday 25th May. The girls thoroughly enjoyed the activities that were on offer and some of them are sure to sign up. The groups run at the Jubilee on Mondays and St Paul's Church Hall, Spittal on Wednesdays. Times, cost and registration details can all be found at http://www.girlguiding.org.uk or email: teri.guiding@gmail.com
World Book day
Although World Book Day came late to TCMS, it was a great success with some excellent book character costumes.
Zoolab
Year 6 pupils were treated to some very special visitors this term. Some of them were very small but never the less very scary. As part of their 'evolution and inheritance' topic our year 6 pupils found out about the habitats and adaptations of cockroaches, frogs, a tortoise, a snake and a big, hairy spider. All of the children were exceptionally brave and even Mrs Taylor plucked up the courage to hold the spider.
More Furry Friends
The Zoolab creepy crawlies were not the only animal visitors to school this term. The year 6 (set 2) literacy class had a visit from a family of four-legged friends. Gladys the Bulldog and three of her puppies came into a literacy lesson to help the pupils research their dog-themed information booklets. The children were able to make the puppies sit (for a treat of course) and had a go at brushing them and taking them on the lead. Having the puppies and their mother in the lesson also helped the pupils to understand what they had been learning in science, as we talked about the evolution of the bulldog and spotted some characteristics that the puppies have inherited from Gladys as well as some variations between each puppy.
Author Stuart Reid's Visit
Some of our year 6 pupils had the opportunity to attend a workshop run by successful author, Stuart Reid. They were able to buy some of Stuart's books and ask him questions about writing. Check out his 5 hilarious books at stuart-reid.com.